LATHE RIMEX MOD. CU 760x5000
lathe conventional - Used Machines
RIMEX
08150

TECHNICAL FEATURES:
- Swing diameter over bed mm 760
- Swing diameter over carriage mm 520
- Distance between centers 5000 mm
- Spindle speed no.15
- Spindle speed range 8-1050 rpm
- Spindle bore mm 130
- Main motor power Kw 11

MACCHINA BASE ED ACCESSORI STANDARD:
-Cast iron bed
-bed guideways width hardened and ground mm 560
-Head with hardened and ground gears
-Machanical brake and clutch
-Spindle nose DIN 55027 n.11
-Type of threading execution: Metric , whitworth, modular, diametral pitch
-Elecrtical cabinet/cables, general switch for door interlock, rele termico main motor cover, emergency brake with push botton and foot pedal, low voltage electric supply 24V
-Carriage with cross and longitudinal rapid feedrates
-Tailstock with quill diam mm.95
-Coolant system with electropump
-Guideway lubrication system with manual pump
-lighting system
-Back plate for chuck mm.400
-Turret GFB type D with 5 toolholders
-Spindle adapter sleeve
-Full lenght rear splash guard, splash guard for chuck and turret guard
-Shaft and leadscrew protection
-Manual books and EC conformity
MACHINE EQUIPED WITH:
-No. 02 steadies
-Chuck diameter mm 315 3+3+3

NEW MACHINE EC CONFORMITY
IMAGES:
FILL OUT OUR FORM FOR MORE INFORMATION
Potrebbero interessarti
LATHE REVOLVER VDF
New04688

HEIGHT OF CENTRE MM.450
DISTANCE BETWEEN CENTRE MM.650
EQUIPED WITH ACCESSORIES:
-PNEUMATIC SPINDLE...
08556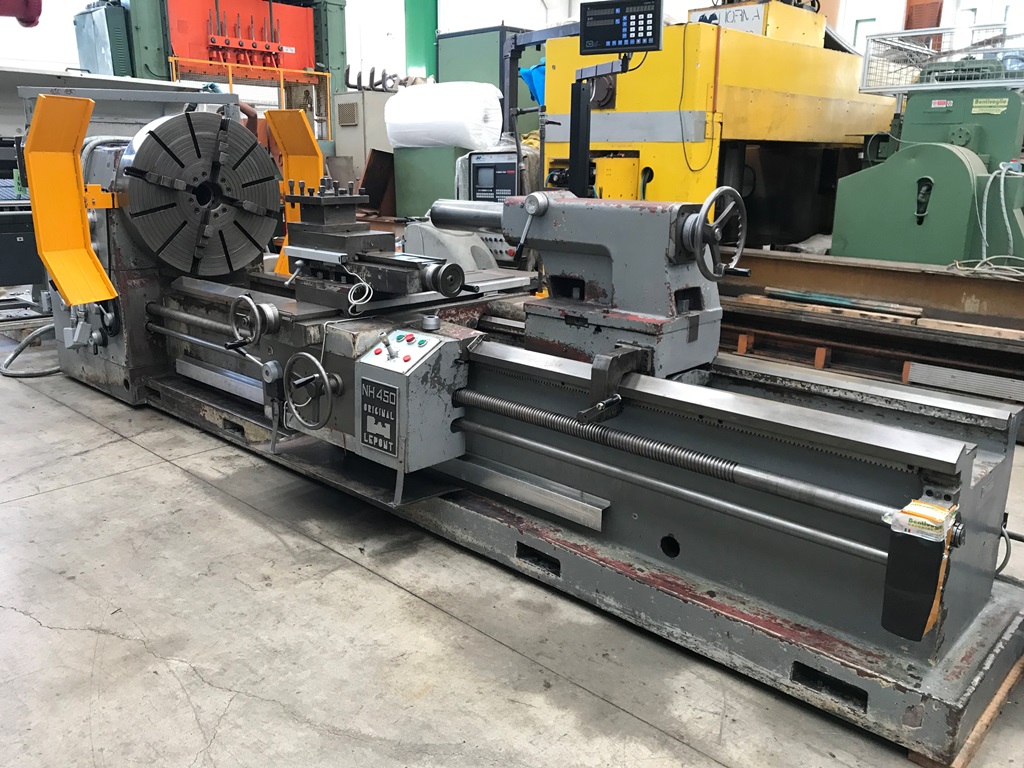 LATHE PONTIGGIA 450X3000
08182

MOD. NH 450 LEPONT
Height of center mm 450
Turning diameter on the bed mm 900
Turning diameter on...
FRONTAL LATHE MUM/80
07710


TECHNICAL DETAILS:
>Height of centre over bed mm 800
Max swing over bed guideways mm 1620
Max...
TRN.BAN.O534


X
Scarica PDF
Enter your email address to receive a link to download the PDF
Per poter procedere, la prima volta devi inserire i Tuoi dati