TECH
08153

2 AXIS CONTROLLED
Tool travel 0-315 mm
Strokes per minute 14 - 60
Ram adjustment 235 mm
Swivel angle of head ±45°
Head to table distance 510 mm
Tool to column distance 460 mm
Diameter of rotating table 450 mm
Longitudinal travel of worktable 265 mm
Transverse travel of worktable 200 mm
Self-breaking main motor 4 kW / 5.5 hp
Net weight 1310 kg
Overall dimensions, mm:
- without packing: 1000 x 1500 x 2250
- on wooden skid: 1150 х 1800 х 2450

EQUIPED WITH:
- fully automated cycle of transverse feed from 0.01 to 0.5 mm/stroke with accuracy 0.01 mm
- fully automated cycle of table rotating with stopping in any position with accuracy 0.02 degrees. Compressed air 6 bar is needed for rotating.
- variable feed for constant cutting force
- touchscreen display
- digital read-out for transverse axis
- digital read-out for rotating table
- digital read-out for longitudinal axis
- manual joystick control + rapid traverse for transverse axis
- manual joystick control + rapid traverse for rotating table
- ballscrew for work axis
- automatic lubrication system
- cooling system
- toolkit
- low voltage local lightning
- user manual

NEW MACHINE
READY DELIVERY
IMAGES:
FILL OUT OUR FORM FOR MORE INFORMATION
Potrebbero interessarti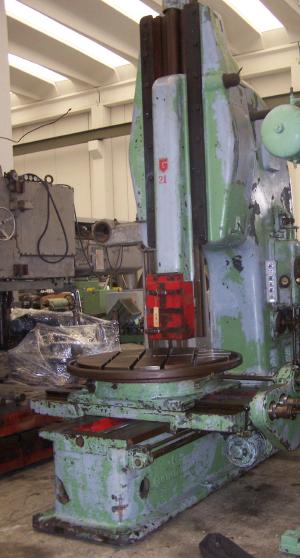 SLOTTING MACHINE GUSLOFF MM. 800
STZ.VER.OO31

TABLE DIAMETER MM.1120
DAY LIGHT MM. 810
STROKE MM.800

USED MACHINE
SLOTTING MACHINE MM 600
06751

Stroke mm 600
Table diameter mm 800

USED MACHINE
SLOTTING PERINI MOD. SM 200
08351

TOOL TRAVEL 0-200 mm
DISTANCE BETWEEN TOOL AND COLUMN 380 mm
TABLE SIZE 300x600 mm
LONGITUDINAL...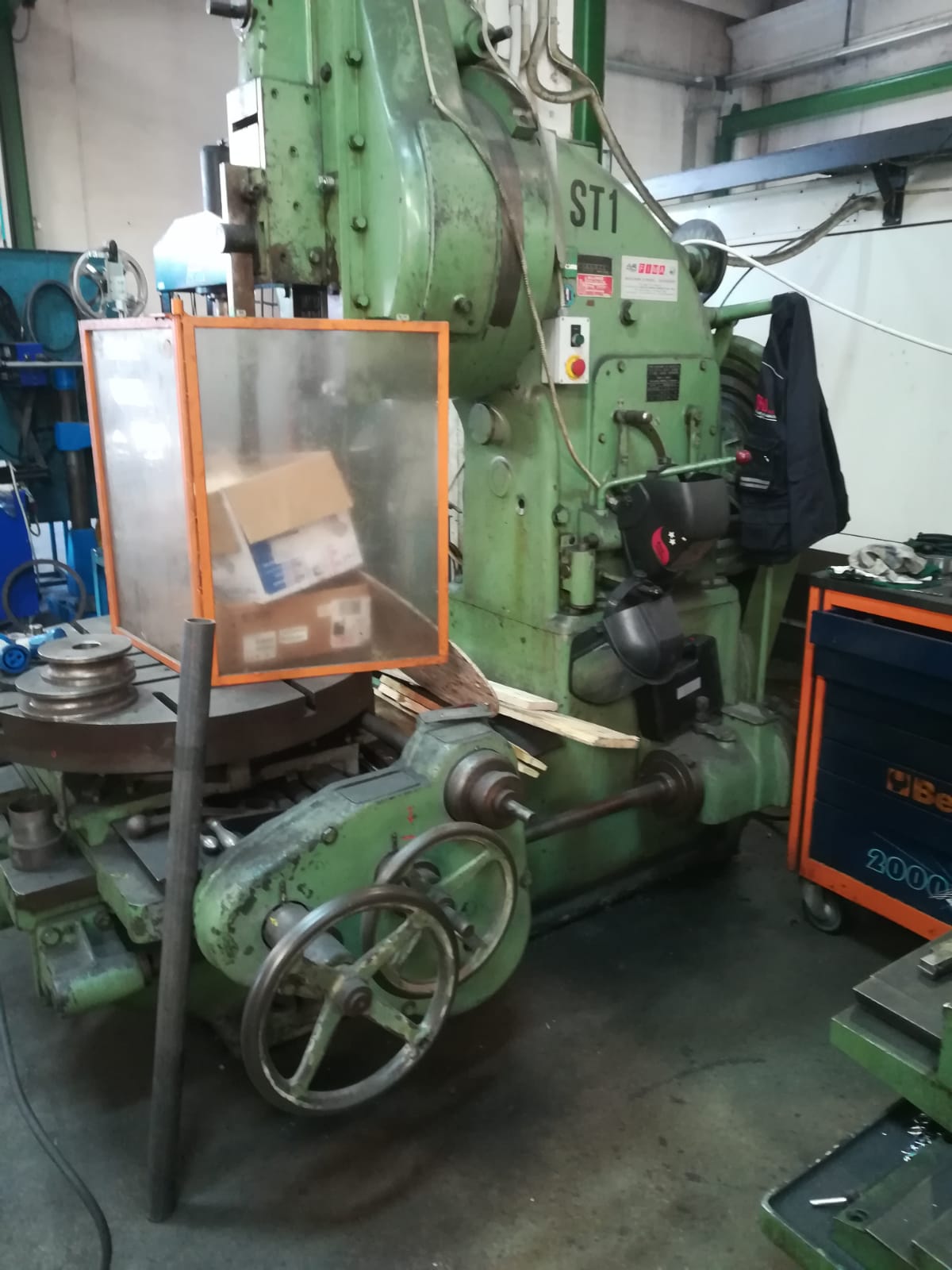 VERTICAL SLOTTING MACHINE
08248


Cross stroke mm 600
Vertical tool stroke mm 480
Max working piece height mm 500
Table dimensions...
SLOTTING CAMS MOD. 300
08457

Tool stroke adjustable from mm 0-300
Distance between pillar and toolholder mm 500
Opening between...
X
Scarica PDF
Enter your email address to receive a link to download the PDF
Per poter procedere, la prima volta devi inserire i Tuoi dati