lathe cnc - Used Machines
FAT
07922
Distance between centre mm 4000
Swing over bed mm 1100
Swing over carriage mm 790
Max. load between centre * kg 4000
Max. load between centre (with one steady) * kg 7500
Max. load between centre (with two steadies) * kg 8000
Max. load in chuck kg 1000

SPINDLE
No. of spindle ranges 2
Main motor power (S6) kW 33
Standard execution
Spindle nose Camlock DIN55029 D1-11
Spindle inner taper mm 150
Spindle bore mm 140
Spindle speed ranges (standard with 140 mm spindle bore):
- I range 4-300 rpm
- II range 160-1200 rpm
Max. torque Nm 5300

CARRIAGE
Cross slide travel X axis mm 610
Rapid travel Z axis m/min 6
Rapid tavel X axis m/min 6
Feed force transverse kN 15
Feed force longitudinal kN 20
Ballscrew Z axis mm 63
Ballscrew X axis mm 40
Carriage lenght on bed way mm 810
Width of cross slideway mm 360

TAILSTOCK
Quill diameter mm 125
Quill taper MT6
Quill stroke mm 300

GENERAL
Bed width mm 700
Machine lenght mm 6850
Width mm 3050
Height mm 2250
Weight kg 14500

EQUIPAGGIAMENTO STANDARD
-Siemens electrical equipment with Siemens 840 D SL
-Voltage 3x400V
-Automatic programmable change gearbox
-Color RAL 7031/7044
-2 tube lamps in working area
-Hydraulic aggregate
-Complete coolant system
-1 driven door in the front and splash guard on the rear
-Manual tailstock with come-along system – quick coupling between tailstock and cross slide
-125mm diameter tailstock's quill
-Automatic lubrication for headstock
-Automatic lubrication for carriage & cross slide
-Siemens Service Contract – 1 year
-USB Port
-Absolute encoder
-One set of operation/programming and maintenance manual in English
-CE-conformity

ACCESSORIES INCLUDED:
-Spindle orientation – C-axis positioning – spindle driven by main motor; with hydraulic brake on the spindle – positioning every position (precision +/- 0,02°) with one spindle nose
-Horizontal 4-position head turret Sauter 0.5.320.025 (one direction rotation), V-block fixture interface as per DIN 69 881 – formerly VDI 3425; nominal size 32 or 40, drive electromechanical; delivered without tool holders
-Faceplate independent 4 jaws diam. mm 800
-Steady Rest With Roller Quills - Ø 30 – 340
-Steady Rest With Roller Quills - Ø 310 – 480
-High Pressure Pump for coolant system (1,7 kW; max. P=9,0 Bar; max. Q=64 L/min; 20 L/min at 6,3 Bar; 30 L/min at 5,0 Bar)
-Third Handwheel (MPG mini handheld unit) Siemens
-Chip conveyor
-3 D Simulation Of Work Piece
-Real Time Simulation
-Networking connection
-LED light in front of chuck
-Working light plexi fluorescent tube

NEW MACHINE EC CONFORMITY
FILL OUT OUR FORM FOR MORE INFORMATION
Potrebbero interessarti
LATHE CONVENTIONAL GRAZIANO SAG 12
New02906

HEIGHT OF CENTRE MM.300
DISTANCE BETWEEN CENTRE MM.800
SWING OVER NOTCH MM.400
SWING OVER BED...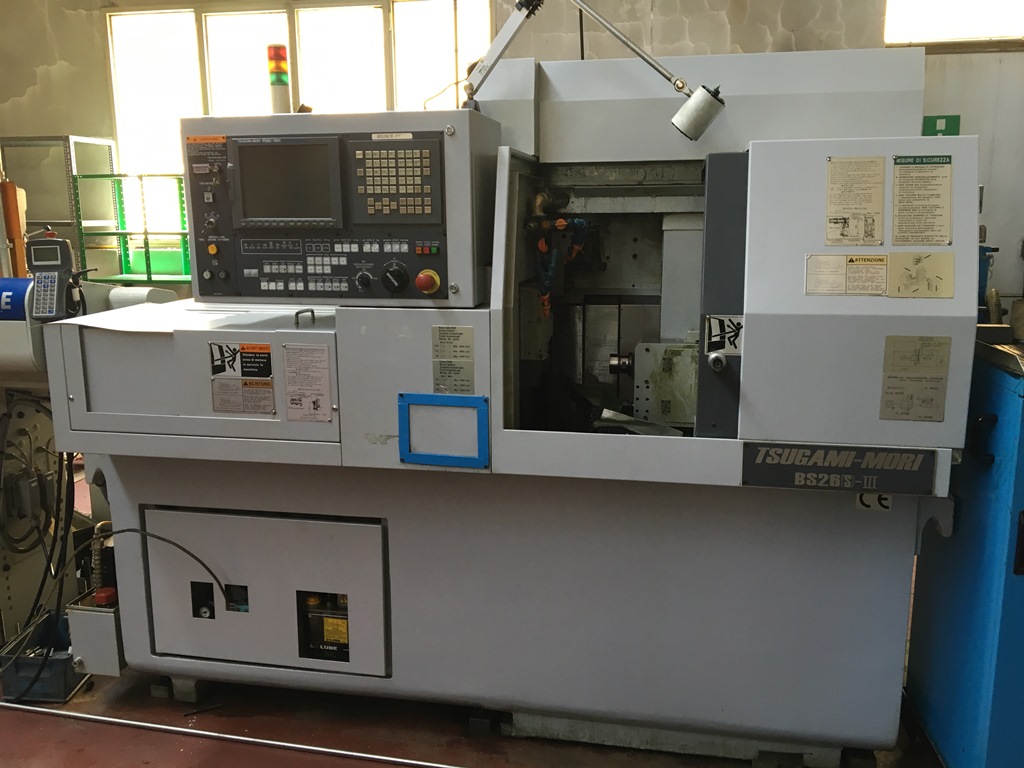 LATHE TSUGAMI - MORI BS26 III
07471

SLIDING HEADSTOCK
N.5 AXIS + 2 C AXIS
SUB-SPINLE
LIVES TOOLS
CNC MSC-501
Bar diameter mm 8-26
Max...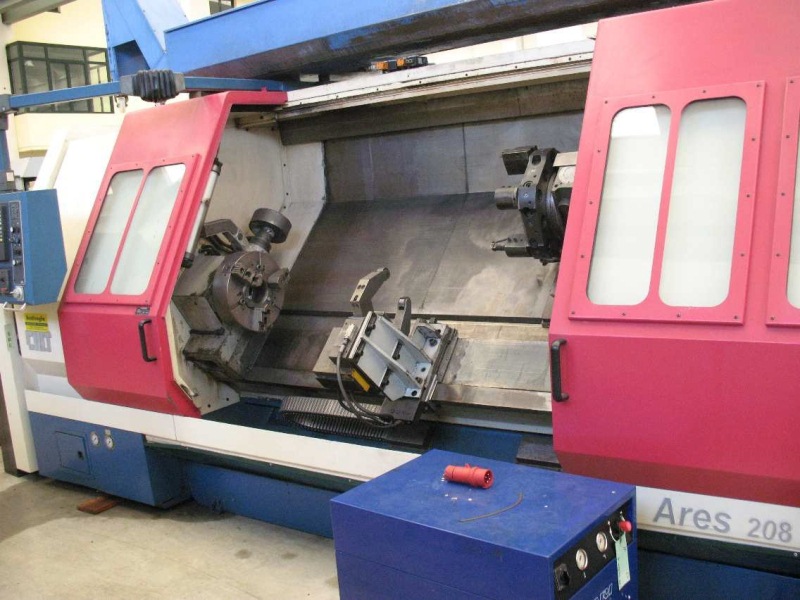 LATHE CNC CMT MOD. ARES 208
New04206

CNC SINUMERIK
HEIGHT OF CENTRE FROM TABLE MM.350
MAX DIAMETER MM.695
MAX DIAMETER OVER CARRIAGE...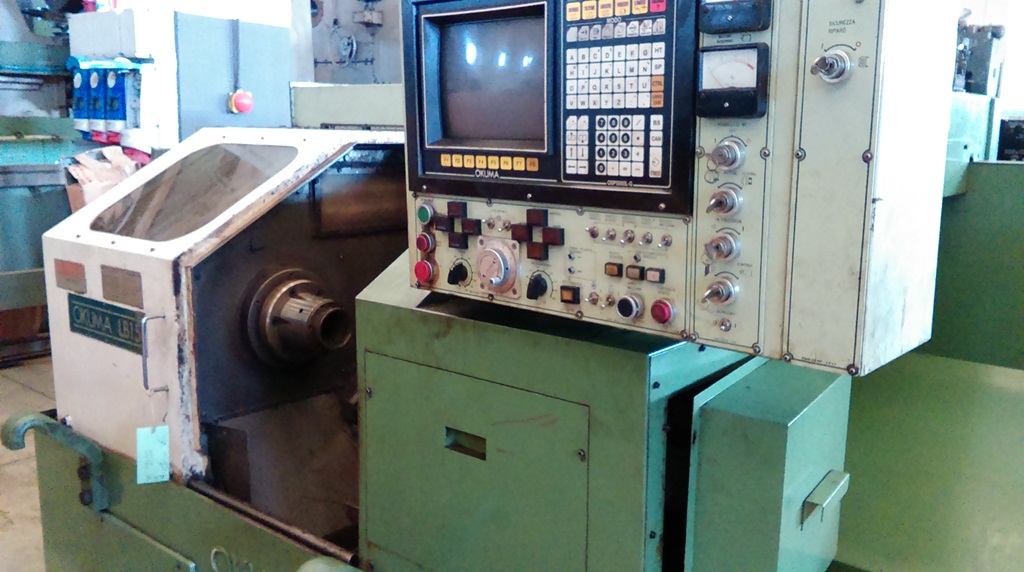 LATHE OKUMA LB 15
06704

Control: OSP 5000L-G
Turning diamеter 250 mm
Turning length 500 mm
Spindle speed 3,800 rpm
Drive...
LATHE CNC YAM MOD. CK-1A
New05160

CNC FANUC OT
MAX TURNING DIAMETER MM 460
SWING OVER CARRIAGE MM 270
TURNING LENGHT MM.300
TAPER ASA...
X
Scarica PDF
Enter your email address to receive a link to download the PDF
Per poter procedere, la prima volta devi inserire i Tuoi dati